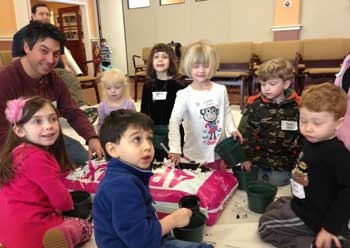 Temple Tots
Temple Tots is a program designed for families of pre-schoolers at Or Chadash. Temple Tots meets one Sunday a month, and runs from 11:00 A.M. -12:00 P.M., with a snack towards the end of the hour. We meet in the Sanctuary after Tefillah (prayer assembly).
Temple Tots is a fun and educational program that teaches basic Jewish concepts at the pre-school age level. In addition to learning about the Holidays, the children will have an increased awareness about:
What is a Rabbi?
Why do we come to Temple?
What is Tzeddakah?
Where can I find a Mezuzah?
Theme-related crafts, stories, and a hands-on approach to learning are all active ingredients in the Temple Tots program. We read Sammy the Spider stories and other PJ Library books. In the past, the children played I-Spy in the Synagogue. They located and counted Mezuzahs, and Stars of David. They planted trees on Tu B'Shevat. They were very excited!
We look forward to seeing you on Sundays, and showing you just how exciting Temple can be when seen through the eyes of a pre-schooler!
Please click the following link to complete an RSVP form so we know to expect you at our next Temple Tots activity:
RSVP for Temple Tots