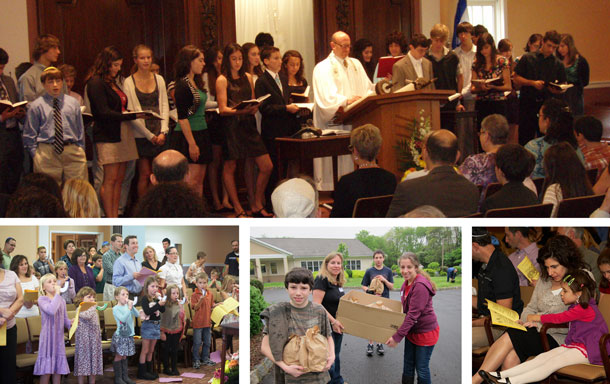 Or Chadash, a Reform Temple serving Hunterdon, Warren, and Somerset Counties is a vibrant and growing Jewish congregation. Our mission is multi-fold. As a synagogue, we hope to provide a warm and nurturing environment for everyone who walks through our doors. As an educational institution, it is our aim to provide our children with the background necessary to develop a love and enthusiasm for Judaism so that Jewish values might guide and enrich their paths through life.
Our highest goal is that Or Chadash becomes a place of meaningful experiences that are cherished and carried on wherever each and every one of us may go. Spiritual depth, excellent religious school, adult education, compassionate mitzvah and social action committees, an active sisterhood, a full schedule of social events, programs and much more are here.
Our Mission
Or Chadash, the Reform Temple of Hunterdon County, offers a caring and inclusive congregation that prays together, builds Jewish community through acts of Tikkun Olam, shares life's events and provides education for all ages.
Welcome to Or Chadash…
I am delighted that you are interested in knowing more about Or Chadash, and would be pleased to speak with you about your involvement with our community. It would be wonderful to add your name to the growing list of members who have joined the Or Chadash family.
You have come to Or Chadash at a very dynamic time in the life of our congregation. Our building is filled for many wonderful occasions, from ritual observances to life cycle celebrations to social gatherings. Our home, which has been open since Rosh Hashanah of 2000, provides us with the facilities required to conduct our regular worship, religious school and holiday activities. We have established a permanent presence within the larger community.
Now is a great time to become part of the Or Chadash temple family. Whether you're interested in a child's Jewish education, seeking personal fulfillment through community involvement, or looking for Jewish friends in the neighborhood – Or Chadash can help you reach these goals.
Consider yourself warmly invited to join us at one of our many upcoming activities. Feel encouraged to introduce yourself to me, so we may begin building the special relationship that I cherish with so many members of the congregation.
Please call upon me if I can be of any further assistance, and I look forward to personally welcoming you to our community. With your involvement, you'll see why we believe that "Or Chadash is the place to be!"
– Rabbi Joseph M. Forman