Welcome to Second Grade at Or Chadash Religious School!
Teacher – Andy Stein
Dear Grade 2 Parents,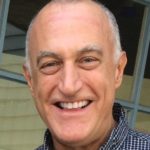 Welcome!  This is my fifteenth year of teaching at Or Chadash, and I am delighted to join your children on a fun, joyous Jewish learning adventure.
Before you know it, your child will know most or all of the Hebrew alef-bet and will be familiar with all major Jewish holidays, Shabbat and holiday blessings, the Shema, and many of the best-known Jewish Bible stories.  Students will bring tzedakah money to class and help decide how the money will be used.  And of course, there will be many special events and surprises throughout the year.
The Religious School's goal — and my personal goal — is for your children to learn a lot, have fun doing it, and leave class each week feeling excited about being Jewish.
A teacher can be a positive influence, but it is parents who still make the biggest difference in their children's Jewish education.  I hope that you will participate fully in this experience by engaging your child in conversation about his or her Jewish learning, and by taking part in the many planned Religious School and Temple events throughout the year.  I will do my best to notify you of important upcoming events.
Please feel free to contact me at any time at andrewlstein@yahoo.com with any questions, etc. you may have.
Kind regards,
Andy