Please see below for press coverage of Or Chadash
Please be aware that some of the links may no longer be valid.
If you are interested in learning more about Or Chadash, please click to join our mailing list!
Or Chadash in the News
Or Chadash Celebrates a New Academic Year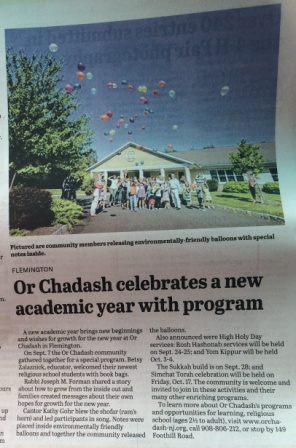 Nearly two-thousand years ago Rabbi Tarfon said: "You are not obligated to complete the work, but neither are you free to desist from it."
(Pirke Avot)
On Saturday and Sunday, May 17th and 18th more than 180 members and friends of Or Chadash
joined together to do "Tikkun Olam" (the work of repairing the world). "Mitzvah Day" is an annual event taking place at Or Chadash on the third weekend in May. It is a capstone event of Or Chadash's programmatic year.
On Saturday, Chef Rachel Reuben of Food Fix Kitchen and winner of The Food Network's "Chopped" graciously donated her garage kitchen in Lebanon and her tremendous talents to Or Chadash as she guided us in the preparation of 48 meals for clients of Jewish Family Service of Somerset, Hunterdon and Warren Counties. The prepared meals included chicken soup, matzah balls, turkey meatloaf, mashed potatoes and mandelbrot. Upon receiving the meals, Jerry Starr, Executive Director of JFS said: "Thank you for helping to prepare meals for our neediest clients. These meals will be delivered to many of our seniors including some holocaust survivors who can use these healthy nutritious meals."
| | | |
| --- | --- | --- |
| Karen Tovi-Jones and Maureen Weiner preparing food for clients of Jewish Family Service. | Tali Parliyan, Maryjane Staats, Abby Weiner, Alexa Parliyan, Jazzy Parliyan, Susan Albert preparing food for clients of Jewish Family Service. | Rabbi Joseph M. Forman and Karen Tovi-Jones preparing food for clients of Jewish Family Service. |
Karen Monroy, CEO of Ability2Work (Ability2Work.org) said "Or Chadash's volunteers get an A+. The children and adults worked tirelessly to complete the tasks. We loved welcoming Or Chadash to Baker's Treat and look forward to many more opportunities to work together." Working in teams, fourteen children and adults spent Sunday morning at Baker's Treat in Flemington (Route 12) to organize a storage room and transplant seedlings to planting beds. Additionally, Or Chadash members created 25 looped potholders which were donated to Baker's Treat. The potholders will be used as thank you gifts for Baker's Treat donors.
| | |
| --- | --- |
| Rabbi Joseph M. Forman delivering potholders to Karen Monroy, CEO of Ability2Work at Baker's Treat. | Jenna Lifshitz and Shay Beckman creating potholders.  They will be available at Baker's Treat in Flemington, NJ. |
Outdoor and offsite Mitzvah Day activities included completing trail and trash maintenance on Or Chadash's northbound neighbor and our newly adopted Hunterdon County Parks trail –the Arboretum; providing landscape and general barn maintenance at a member's farm; participating in the Raritan Headwaters Association Stream Clean Up; and entertaining the residents of Rolling Hills Care Center, guided by Cantor Kathy Gohr's amazing guitar skills and our Or Chadash choir.
Back at Or Chadash, activities included preparing peanut butter and jelly sandwich bags for Samaritan Homeless Interim Program (SHIP); collecting and delivering non-perishable items to the Clinton and Flemington Food Pantries; creating tie-dye napkins for a 60's summer picnic for the residents of Independence Manor; baking cookies for Hunterdon Youth Services on Sandhill Road, creating (de)stress balls for students; creating paracord survivor bracelets for "Operation Gratitude"; and general synagogue exterior maintenance, spreading mulch and trimming bushes and important interior maintenance including cleaning light fixtures and polishing the silver.Or Chadash also hosted a New Jersey Blood Center blood drive.
For our youngest Mitzvah Day participants, using a story from the PJ Library collection, All About Me, by Molly Bang, we learned how we can repair the world using different parts of our body. After we read the story we created artwork for the residents of Independence Manor.
Youngest Mitzvah Day participants listening to PJ Library book, All About Me, by Molly Bank, and how we can repair the world using different parts of our body.
Front Row, Jake Korfin, Amanda Korfin, Nate Freda, Meredith Loew, Naomi Blanke Standing: Lauren Blanke, Hayden Moscowitz, Andy Freda

Amanda Korfin, Jake Korfin, Nate Freda, Andy Freda with art projects created for residents of Independence Manor
Or Chadash Religious School students participated in America's Grow a Row at Peaceful Valley Orchards on Thursday, Sept. 19, as part of the synagogue's celebration of the holiday of Sukkot.
Sukkot, a Hebrew word meaning "booths" or "huts," refers to the Jewish festival of giving thanks for the fall harvest. It also commemorates the 40 years of Jewish wandering in the desert after the giving of the Torah atop Mt. Sinai. Sukkot is celebrated five days after Yom Kippur on the 15th of Tishrei, and is marked by several distinct traditions.
One, which takes the commandment to dwell in booths literally, is to erect a sukkah, a small, temporary booth or hut. Sukkot celebrates the fall harvest and students harvested tomatoes. In keeping with America's Grow A Row mission to support desert cities (134 cities in New Jersey that do not have access to fresh produce), the tomatoes harvested by the students of Or Chadash were delivered to these communities in need.
Families participating in Or Chadash's Rosh Hashanah Children's Service learned the meaning of "Tashlich" (casting off) during its afternoon services and hands-on Rosh Hashanah programming. Participants reenacted the book "Tashlich at Turtle Rock" (KAR-BEN Press) by remembering good things they did last year, making handprints of something they hope to achieve in the year 5774 ahead, and symbolically throwing away something from last year.Yom Kippur services will be held on Friday, Sept. 13 and Saturday, Sept. 14. Kol Nidre begins at 8 p.m., morning services at 10 a.m., continuing with Children's services at 2 p.m. An adult study session will be held at 3 p.m. followed by Yizkor and N'eilah services beginning at 4 p.m. Yom Kippur programming concludes with a community break the fast. The community is encouraged to join Or Chadash in its services and programs.
Or Chadash, a member of the Union for Reform Judaism, is located at 149 Foothill Road, (Route 31 North)
Or Chadash announces its pre-school programming for 2013-14
Or Chadash Confirmation 2013 Class