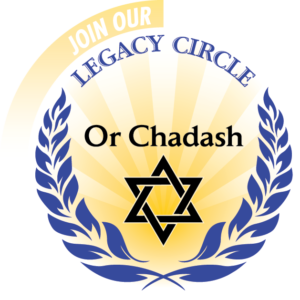 A MIDRASH TEACHES US TO BE GUARDIANS OF FUTURE GENERATIONS
Many centuries ago, when observing an elderly man planting a tree, a Jewish scholar, Honi the Circle Maker (1st Century BCE), asked:
"Why are you planting this tree when you know it will not mature nor blossom for many years to come, and you will never be here to enjoy it?" The man replied "The other trees in this orchard were planted by my parents and grandparents in order for me to enjoy their shade and fruit. Now it is my responsibility to ensure that there are trees here for the generations to come, so they too can enjoy shelter and sustenance."
"As my parents planted for me before I was born, so do I plant for those who will come after me." —Talmud

 

How Will You Assure

Jewish Tomorrows?

This congregation is an enduring part of your Jewish legacy, just like your family. As you plan for the future, think about what that legacy means to you.

— Convey your commitment to being Jewish.
— Express values instilled by your parents & grandparents.
— Perpetuate the Jewish traditions you cherish.
— Preserve & grow the programs at Or Chadash for generations to come.
Click the links below to Learn more:
How Do You Make Your Dreams Come True?
Jewish Community Foundation of Greater Mercer
Contact a Legacy Circle Committee Member